OK I bought some 3.6 volt Li-Ion cells http://www.batteryspace.com/index.asp?PageAction=VIEWPROD&ProdID=945
and a metal cell holder that I soldiered a micro switch to. I then attached it to a Pelican brand replecment Xenon lamp module for a 3 C cell flashlight
http://www.action-lights.com/flashlights/pelican_flashlights/accessories_and_bulbs/2004_lamp_module.asp?bhcp=1
http://www.action-lights.com/photo.asp?ProID=753
Screwed a strip of metal to the module and stuck some sticky back velcro to it and my helmet.
Its a ultra light wieght very bright and last for about 2 hours head light. The battery sits in a vent of my helmet..lol I hope thats safe..lol.
You could run 3 AAA or AA cells in a holder and velcro it to the back of your helmet or put it in your back pack or jersey pocket.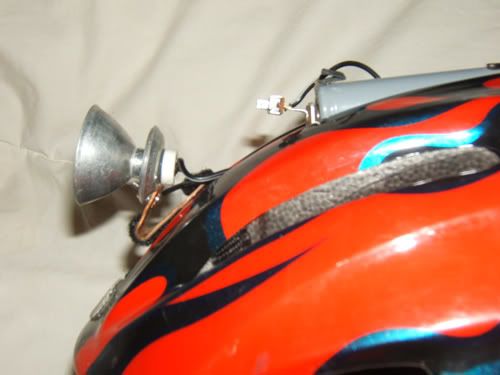 Or this $1.50 3 AA cell holder with built in switch